Source: RT
Turkish guards routinely shoot at Syrian refugees stranded at the border, a researcher at
Amnesty International
has told RT, adding that the number of people being shot has recently spiked. According to Andrew Gardner, these cases are far from being isolated.
"There have been many reports of incidents on the border. We collected information on this as early as 2014, when we received many reports of people being shot when they were trying to cross the border irregularly," Gardner said.
He added that the current situation in war-torn Syria has led to a spike in the number of migrants being assaulted by Turkish border guards.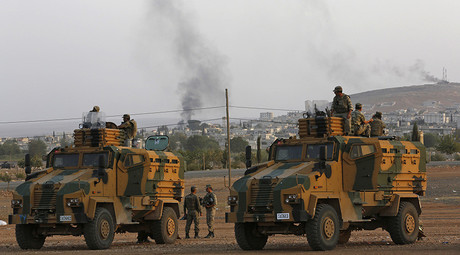 "Now, the information we received via Syria doctors is that there are reports of two or three people being shot every day trying to cross the border irregularly," he said.
The researcher also stated that the plight of refugees in Syria has driven many of them into the "hands of smugglers," or forced them to cross the border at night. According to Gardner, Turkish guards fire shots at refugees based on what they say are safety measures.
"What the Turkish parties have told us is that they don't know who these people are, that people could be members of armed groups, they could be smugglers," he said.
Full Story [HERE]